Mayoral candidates battle for votes
Five of the candidates hoping to replace outgoing Auckland mayor Phil Goff have spoken of their personal stories and detailed their visions for the city in front of local voters.
Goff is not standing for re-election at the Auckland Council elections being held in October this year.
Mayoral candidates Viv Beck, Leo Molloy, Craig Lord, Gary Brown and Efeso Collins spoke to an audience of more than 100 people at the event run by the Howick Ratepayers and Residents Association in Howick on July 23.
Beck is chief executive of business promotion group Heart of the City and has been endorsed by centre-right local-body political ticket Communities and Residents (C&R).
Brown is chairman of the Hibiscus and Bays Local Board on the North Shore, an entertainer and sports referee and he's involved with his local surf lifesaving club.
Lord is a former engineer who works as a freelance media operator and he's also an events master of ceremonies and marriage celebrant.
Collins is a former chairperson of the Otara-Papatoetoe Local Board and serves as a Manukau ward councillor, a position he's held since 2016.
Molloy is a high-profile restaurateur who runs the well-known HeadQuarters bar at downtown Auckland's Viaduct Harbour and previously worked as a jockey and veterinarian.
Each candidate was given several minutes to introduce themselves and explain why they're standing for mayor before answering questions from the audience.
They fielded questions on issues including housing intensification, infrastructure, Auckland Transport (AT), the sale of local public assets, support for businesses, lowering council rates and spending, among others.
Beck said standing for the mayoralty wasn't her aspiration until people began talking to her about it several years ago.
The spark was a battle over pedestrian access to Queen Street in the CBD, she said.
"What mattered there was the council didn't listen to the needs of significant stakeholders.
"It really upset communities and decisions were made that do not fit the communities we want.
"I had a similar experience with the City Rail Link.
"I don't think anybody should lose their livelihoods over a public project.
"We really had to work hard to get some money for those people."
Molloy said he's lived in the city for about 25 years and talked about the deterioration he's seen in the area.
"Not just in value systems but in behaviour, in the enforcement of laws and the use of the council and council's assets.
"My view is we should do a compare and contrast analysis with best practice cities around the world and the one we're looking to at the moment is Brisbane."
He said Brisbane doesn't have the same system as Auckland with council-controlled organisations.
Molloy said Brisbane's City Council has 8000 staff compared to Auckland Council's 12,000.
"They're a much more progressive city than us and they've got 5000km of cycle lanes.
"I think we've got a lot of work to do."
He said he's "unconvinced" about the super-city model and believes suburbs such as Howick should control local assets.
"You know how to spend your money better than the council does and there is no one-size-fits-all for this city."
Lord said the job of a mayor is not to be the "boss of council".
"You are a leader. You [the mayor] are a communicator who represents you.
"The job of mayor is to represent the city and you.
"What I want to do as mayor is bring in a new era, a change of leadership, a new direction and have council do what it's supposed to do – focus on core services."
Brown said the council is lacking co-ordination and as mayor he will "combine and collaborate all the people together".
"The CCOs all work separately because they want to be of their own distinction but they're actually controlled by the council.
"I will bring two members of the council governing body back into that committee, that board, so there are some people who have to be accountable for their decisions."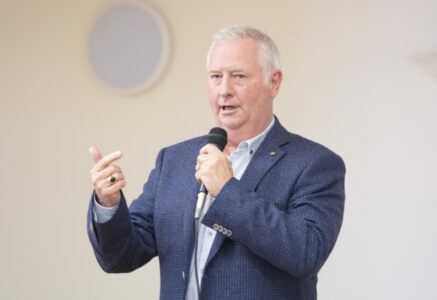 Brown said the local board he chairs has achieved 94 per cent of its projects, which is "unheard of".
"All the local boards need to have their special projects completed because that's what you are asking for. You are asking for results."
Collins said he learned the values of working hard and taking advantages of opportunities at a young age.
"The leadership style I bring is one that will listen authentically, collaborate with people around the table and then make the courageous decisions that are going to be needed.
"We are a growing city. We're going to be 2.4 million people in the next 20 years and we want to be thinking about the future the way I think about the future I'm working for, we're working for, for our children."
The council elections are scheduled to be held on Saturday, October 8 and are conducted by postal vote.
For more information or to enrol to vote go online to www.voteauckland.co.nz.