First shipment arrives in Ukraine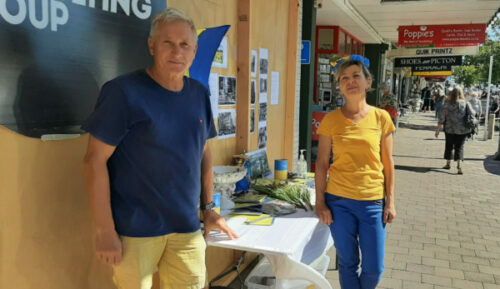 Two Ukranian-born New Zealanders have successfully delivered their first shipment to those in need in their war-torn homeland.
Dr Elena Artyukh, a Howick dentist for 22 years, and Valeriy Boyko, father of Andriy Boyko and long-term east Aucklander, began their fundraising campaign earlier this year (Times, April 19).
The two set up a Givealittle page, approached businesses and contacts and set up a stall on Picton Street, spreading awareness and raising donations for their cause.
So far they have raised about $30,000 in their campaign, including $2200 donated at a high tea at the Pohutukawa Coast Presbyterian Church.
Their first shipment of medical and humanitarian aid successfully arrived in Ukraine in late May.
Eco-blankets were given to displaced families forced from eastern and southern Ukraine to the central part of the country, such as Poltava, Kremenchuk and Dnipro, and also to a hospital in the Donbas region.
Tactical medical items were converted into 75 immediate first aid kits (IFAK) by a group of volunteers from the Poltava and Mykolaiv area, and then passed on to a medical emergency services operating in close to a combat zone in Mykolaiv.
"Seventy five kits may potentially save between 75-200 lives," Boyko says.
General medicine supply was given to the National Medical Clinical Centre in Kyiv.
Ocean Bridge Shipping delegated its resources and time and provided them with free air freighting and clearance on both sides – local and European.
"That was really massive support," Boyko says.
Shipment two will be food products: baked beans and tomato sauce packed in 400-425mm tins.
"It's easy to eat, easy to open, especially when cooking is difficult or unavailable," Boyko says.
The total amount will be 20 tonnes, or 40,320 tins. Once packed, it will be collected and trucked into Ukraine.
To do it more efficiently and cover significant parts of the area, Boyko and Artyukh teamed up with two similar volunteer funds, Boyko's son Andriy and Ukraine Appeal ReliefAid, a Kiwi organisation established by Mike Seawright.
"We consolidated all our funds and split the shipment into three portions," Boyko says.
The shipment is to be distributed in August.
A third shipment will be a combination of general medical and tactical supplies and humanitarian aid and is planned for late September.
Boyko and Artyukh are grateful for all the community support throughout their fundraising efforts.
For more information, visit www.givealittle.co.nz/cause/medical-and-humanitarian-help-for-ukraine