Ukraine war: What you need to know this Friday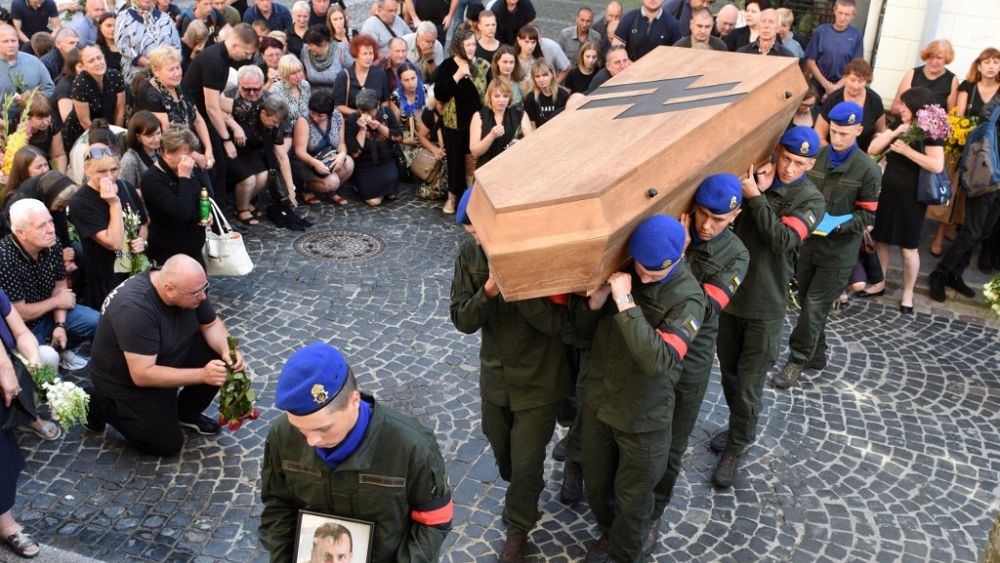 Moscow and Kyiv trade accusations over prison bombing
Russia and Ukraine accused one another on Friday of bombing a prison in separatist-held eastern Ukraine, which killed scores of Ukrainian prisoners of war.  
Russia's defence ministry said Ukrainian forces "fired on the prison where members of the Azov battalion are being held, using American projectiles from the Himars system." 
It reported that at least 40 Ukrainian POWs were killed and 84 others wounded in the strike on Olenivka prison, while pro-Russian separatist authorities in the Donetsk region put the death toll at 53.
The Ukrainian army says it "never conducted" strikes on civilian infrastructure or prisoners of war.
The Azov regiment distinguished itself by holding out against Russian troops in a steel mill in Mariupol, southeastern Ukraine.
After three long weeks of relentless siege, some 2,500 Ukrainian fighters surrendered in May. They were imprisoned in Olenivka, according to Russia. 
"This outrageous provocation aims to scare Ukrainian soldiers and dissuade them from surrendering," the Russian Defense Ministry said.
Ukraine denied targeting civilian infrastructure or prisoners of war, stressing that its army "fully adheres to the principles and standards of international humanitarian law."
Read more:
'We are waiting for the signal to start' – Zelenskyy overseas loading of first grain exports
Ukrainian president Volodymyr Zelenskyy has visited a port in southern Ukraine to oversee grain being loaded for export onto a Turkish ship, following a deal with Russia brokered by the UN and Turkey.
"The first vessel, the first ship is being loaded since the beginning of the war. This is a Turkish vessel," Zelenskyy said, according to a statement from the presidency.
Video footage from the Chornomorsk port released by the presidency showed him in front of a ship called Polarnet.
The statement said exports could start in "the coming days" under the plan aimed at getting millions of tons of Ukrainian grain stranded by Russia's naval blockade to world markets.
"Our side is fully prepared. We sent all the signals to our partners — the UN and Turkey, and our military guarantees the security situation," said the Ukrainian leader. 
"The minister of infrastructure is in direct contact with the Turkish side and the UN. We are waiting for a signal from them that we can start."
Zelenskyy said grain exports will begin with several ships that were already loaded when Russia invaded in February but unable to set sail due to the outbreak of conflict. 
The deal to lift Russia's blockade — the first significant accord involving the two warring sides since the invasion began — aims to mitigate a global food crisis that has seen prices soar in some of the world's poorest nations.
Ukraine — one of the world's top grain exporters before the war — says it aims to export some 20 million tons of produce, worth some $10 billion, under the plan. 
Compensation for Russian soldiers elusive, despite Putin's pledge
Maimed Russian soldiers – including the severely injured – are struggling to obtain compensation, despite promises by the Russian leader that they could claim thousands of dollars, according to Reuters. 
Soon after Russia invaded Ukraine, President Vladimir Putin said injured men could claim compensation of three million roubles, equivalent to $50,000 or the amount an average Russian worker would earn in four years. 
However, as the number of wounded servicemen mounts, Reuters found many are finding it difficult to get what they are due from the Russian state.  
This is based on interviews with four injured Russian service personnel, a wounded soldier's relative, two people involved with advocacy groups representing soldiers and a lawyer.
"It's our duty to support the families of our fallen and injured war comrades," said Putin when he announced it in early March.
Maxim Grebenyuk, a lawyer who runs a Moscow-based advocacy organisation called Military Ombudsman that provides legal advice to service personnel in disputes with their employer, said he has received hundreds of requests for help from wounded servicemen chasing the payments. 
"There's a certain amount of social tension among military personnel" towards authorities in relation to these payments, he said.
North Macedonia donates tanks to Ukraine amid modernisation drive
North Macedonia has said it will donate an unknown number of Soviet-era tanks to Ukraine as it seeks to modernise its own military, its defence ministry said on Friday.
In a statement, the ministry said Ukraine will receive tanks belonging to the western Balkan country's tank battalion which is in the process of being upgraded to meet NATO standards. 
"Taking into account this situation and the requirements of the Ukrainian defence ministry, the government has decided that a certain quantity of these [tank] capacities will be donated to Ukraine, in line with its needs," the statement said.
The ministry did not specify the number of tanks, but it said they belonged to the so-called third generation of main battle tanks from the 1970s and 1980s. 
These have composite armour and computer-stabilised firing control systems.
North Macedonia, an ex-Yugoslav republic, is a NATO member and candidate to join the European Union. 
It has, like other Western countries, already donated military equipment to Ukraine since the Russian invasion in February.