Ex-MP's police interview heard in court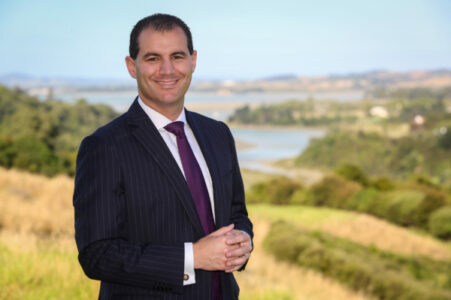 An interview disgraced former Botany MP Jami-Lee Ross did with police during his falling out with the National Party in 2018 has been played in court as part of a trial involving seven people charged over election donations made to two political parties.
The defendants are on trial before Justice Ian Gault at the Auckland High Court in proceedings that got under way on July 25.
They've all pleaded not guilty to the charges laid by the Serious Fraud Office (SFO) in relation to donations to the National and Labour parties in 2017 and 2018.
The SFO alleges the donations were split into smaller amounts so the identities of the donor or donors did not need to be disclosed to the Electoral Commission.
Ross is charged alongside businessman Yikun Zhang and twin brothers Shijia (Colin) Zheng and Hengjia (Joe) Zheng.
Ross, Zhang and Shijia Zheng each face two charges of obtaining by deception.
Hengjia Zheng faces one charge of obtaining by deception and one charge of providing false or misleading information.
Zhang and the Zheng brothers also face charges, along with two men and a woman whose names are suppressed, in relation to a donation made to the Labour Party in 2017.
Among the witnesses who gave evidence in court on Tuesday this week was detective senior sergeant James Patea.
He was the police officer directed to obtain a complaint from Ross in Wellington on October 17, 2018.
Ross's visit to the police came a day after he held a lengthy press conference at Parliament in which he made serious allegations about then-National Party leader Simon Bridges.
Ross accused Bridges of breaking the law by asking him to split up a donation from Yikun Zhang so it could be anonymous.
Bridges strongly denied Ross's allegation at the time.
He called Ross a liar, said he had defamed him, and called for Ross to take his allegations to police.
Ross also publicly released the audio of a phone conversation he'd had with Bridges in which Ross told him a $100,000 donation to the National Party had arrived in the Botany electorate's bank account.
The interview Ross did with Patea the following day was played to the court on Tuesday.
In it Ross told Patea he believed the law was broken with regard to two donations.
"The second element to my complaint involves a donation to the National Party of $100,000 that I don't believe has been properly disclosed as required by the Electoral Act and that donation was offered by Simon Bridges.
"He has knowledge of that donation.
"I was asked to collect the donation and feel as though the Electoral Act was broken in regard to that donation and how it was disclosed."
Ross told Patea donations above $15,000 must be declared in the party's annual declaration.
He said Bridges was approached by a donor during a function for National MP Paul Goldsmith.
"I was not at Paul Goldsmith's function on May 21 [2018], but Simon called me after that function to relay the fact they'd been offered the donation.
"Simon Bridges knew there was a $100,000 donation."
Ross said the donation was broken up before being given to the National Party.
"What came into the National Party Botany account was a series of donations that were all under $15,000 that added up to $100,000."
He told Patea he was handed a list of the names and addresses of the donors to give to the National Party by an "agent" of the actual donor.
"How the $100,000 went from an individual, or it may have been different individuals, to come to the National Party, I don't know because I wasn't involved with that, but they did come through separate bank accounts.
"I was given a bank account number, the name and address and that stuff.
"The bottom line is the $100,000 donation was offered to Simon Bridges."
During the interview Ross played for Patea the audio of the phone conversation with Bridges that he'd secretly taped and explained why he'd done that.
"I recorded it for that reason, because I could smell danger, political danger but potentially legal danger too.
"This is a bit dodgy, potentially in breach of the law, [and] I felt uncomfortable by it and I thought to myself I needed to tell him [Bridges] the money was in, for myself I need to have some evidence.
"There's a direct link to me and if the s*** hit the fan, that would have all landed on me, whereas on the 21st of May I was asked by Simon Bridges to go and collect the donation."
Bridges is expected to give evidence in the trial this week.