Work continues with spring on its way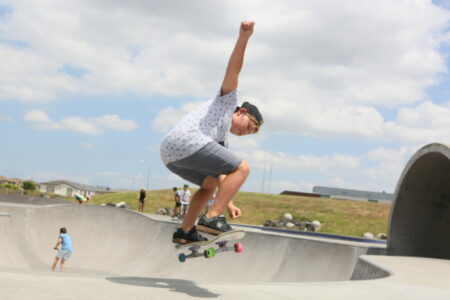 By Adele White, chairperson Howick Local Board
Kia ora!
After a wet and blustery July, the sight of tiny lambs and spring flowers give us hope that spring is on the way. Our parks teams are striving to complete several renewal projects which have been slowed by bad weather.
Path upgrade Lloyd Elsmore Park
We're pleased to see the paths between Lloyd Elsmore Park Pool and Leisure Centre and Howick Historical Village are being renewed.
The first section of the works has begun with the base course now being laid.
This will be open shortly to the public for use.
Due to poor weather, work on the second section has been delayed but will restart when the ground dries up. This long-awaited project is expected to be completed by the end of September.
Play space upgrades
A playground renewal at Kilimanjaro Park is underway. This includes a great new multi-play module.
We will also see installation of drainage, and a new woodchip surface.
This will be followed by complete reinstatement of grass as the weather improves.
Earnslaw Park now has a full playground renewal with new playground equipment, cushion fall/rubberised surface, shade sails, installation of fitness equipment, seating, and installation of field drainage in the flat grassed area.
Barry Curtis Skate Park
The renewal of the skate park at Barry Curtis Park is well under way with a new surface, minor improvements to existing structures, refurbishing the existing pergola and renewing shading now complete.
Stage two involves line marking of the basketball court and renewing the basketball hoops, and weather permitting it should be completed by November.
Crime watch patrols
Residents have told us a safe neighbourhood is important to them.
The recent spate of crime has put many on edge.
Our local Crime watch patrols do a great job as extra eyes and ears supporting our police.
This voluntary role is a great way to meet new people and contribute to making our community a safer place to live.
If you're fit and healthy, have a full driver's licence, can pass a police check and can give a few hours every few weeks, you would be welcome to join our local teams. Full training will be given.
Howick/Pakuranga Crimewatch Patrol – call Mike Upson 09 535 3973
Botany Crimewatch Patrol (Botany, Flat Bush, Dannemora) – call Margaret Westwood 09 274 9449
Howick War Memorial building
This building is currently a venue for hire for community groups. It can be booked by calling 09 379 2030 or online through www.bookings.aucklandcouncil.govt.nz