Author clinches another award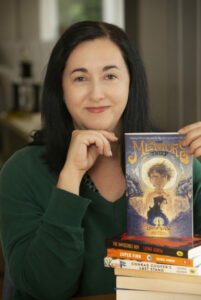 Pakuranga author Leonie Agnew has won another prize, this time the Esther Glen Award for Junior Fiction category at the NZ Children's Book Awards.
It was for her book The Memory Thief (Puffin, Penguin Random House).
Judges said, "From its eye-catching cover to the final conclusion, The Memory Thief is a stunning story that captures the reader early and holds them in an embrace of wonder, intrigue and imagination."
The judges all agreed on the skill and writing craft of the author, sharing an extra depth and quality of language in this novel.
"Unique but perfectly believable at the same time, The Memory Thief steps into another world whilst still inside our own. Memories themselves are both villains and heroes as they are taken or returned. The handling of a common illness, with its thought-provoking and original twist, is deftly handled and beautifully written.
Agnew told the Times there were lots of great books in her category.
"So it was amazing to be chosen. I'd only say that I want to encourage others to read the finalists, such as Spark Hunter, The Tomo or Amorangi and Millie's Trip Through Time," Agnew said.
"It's so important that we get behind New Zealand books because they're up against international titles with huge promotional budgets.
"So many great, local books are hiding in the corners of bookstores with no stands, displays or pop-ups.
"Poppy's Bookstore and Paper Plus in Howick do a good job of carrying New Zealand children's book titles, so I'd encourage people to start there."
Agnew said she didn't have a lot of time to think about the awards beforehand because she was so busy.
"In the school holidays I was the chairperson of the Storylines' national conference for children's writers and illustrators," she said.
"Then I had to work quickly on publisher's edits for my next novel, The Impossible Story of Hannah Kemp, and also fulltime work. So, when I finally found myself in Wellington and actually winning, well – it took a few days to sink in."