Covid tests for China travellers to England to end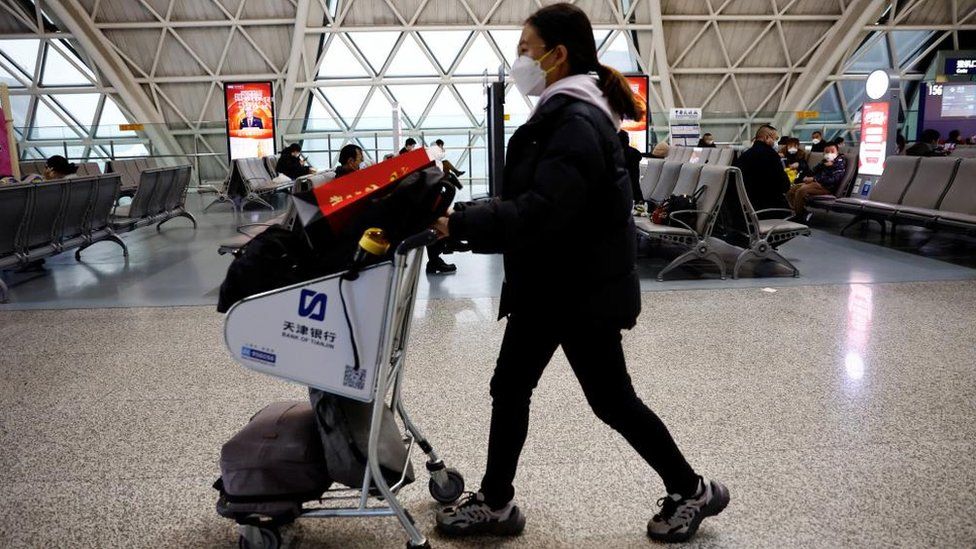 Covid testing for travellers coming to England from China will end, the UK government has announced.
Voluntary on-arrival testing was introduced in January in a bid to detect any new variants arriving from China.
The government said an average of 99 people per flight had been tested, totalling 3,374 passengers.
During that period, 14 positive cases were identified, but none was deemed to be a variant of concern.
The Department of Health and Social Care (DHSC) said from Friday, 17 March "passengers aged 18 or over travelling from mainland China and arriving at Heathrow Airport will no longer be invited to take a voluntary test on arrival".
It added that from 5 April, no-one flying from China to the UK will need a negative pre-departure test.
The DHSC said China was sharing more information around testing, vaccination and genomic sequencing results, providing greater transparency on its domestic disease levels.
It said the latest data indicated that Covid variants observed in China were "the same as those already circulating in the UK".
The Chinese Centre for Disease Control and Prevention also reported that all regions had passed their infection peak, DHSC said.
"The ending of this enhanced surveillance is in line with international partners such as the EU who are reducing border measures to monitor new variants from China," it added.
The department said the government would maintain a range of contingency measures to "enable detection, and swift and proportionate action, for potential new harmful variants" should the need arise.