Heathrow security to strike for 10 days including Easter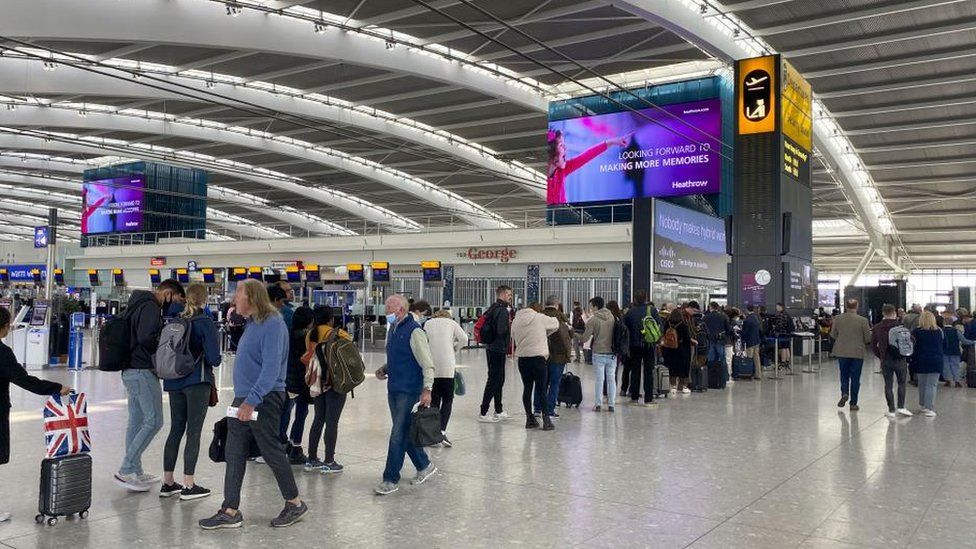 Security guards at Heathrow Airport's Terminal Five are to strike for 10 days from 31 March in a dispute over pay.
The Unite union says more than 1,400 of its members employed by Heathrow will walk out in a period which covers the school Easter holidays.
Workers at T5, which used by British Airways, and those who check cargo entering the airport, will take part in the action, ending on Easter Sunday.
Heathrow says contingency plans will be put in place to keep the airport open.
In a statement, Heathrow said passengers can be assured the airport will be "open and operational despite unnecessary threats of strike action by Unite".
The company said it had proposed "an inflation-beating 10% increase in pay".
But Unite says the offer does not make up for years of pay freezes and cuts.
Unite union secretary general Sharon Graham says workers at Heathrow Airport are on "poverty wages" while "the chief executive and senior managers enjoy huge salaries".
She said Unite members are "simply unable to make ends meet due to the low wages" and they are striking "due to need not greed".
"It is the airport's workers who are fundamental to its success and they deserve a fair pay increase," the Unite boss said.
Heathrow will likely need to move resources from other areas of the airport to Terminal 5 when the strike takes place.
The airport says the wage proposal on offer is fair, and "threatening to ruin people's hard-earned holidays with strike action will not improve the deal".
It said staff at Heathrow are paid at least the London Living Wage, while the starting salary for a security officer would be £27,754, plus shift pay and allowances, if its 10% offer is accepted.