Royal Mail referred to Ofcom over late letter deliveries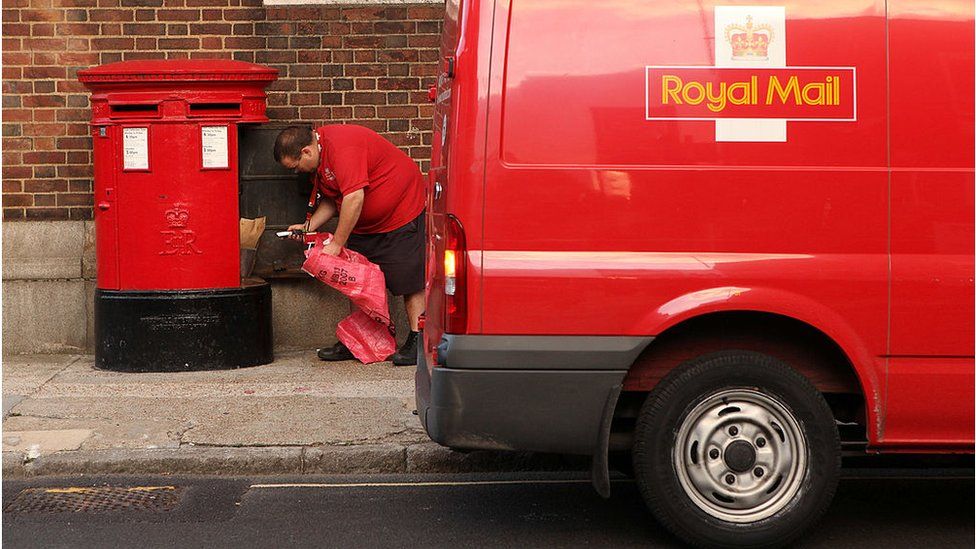 Royal Mail is falling down on its letter delivery obligations, a group of MPs has said.
The firm has been prioritising parcel deliveries over letters, they said, and called on Ofcom to investigate.
The regulator said Royal Mail's recent performance was "clearly well short of where it should be" and said it would consider the MPs' report.
Royal Mail said it had clear policies that parcels and letters "should be treated with equal importance".
Royal Mail must, by law, deliver letters to all parts of the UK, six days per week, as part of its "universal service obligation".
If it fails to do this, it can be fined by communications regulator Ofcom.
There was widespread evidence that Royal Mail "systemically failed to deliver" on this obligation, telling postal workers to make sure they delivered parcels before letters, MPs on the Business, Energy and Industrial Strategy committee said.
They referred the matter to Ofcom, calling on it to open an enforcement investigation, talk to postal workers, and report back to the committee.
The MPs also said Royal Mail's chief executive Simon Thompson had not been "wholly accurate" in answers he gave to MPs on the use of technology by managers to track and discipline workers.
Royal Mail said it rejected the suggestion that Royal Mail "may have misled" the committee in answering its questions.
It said evidence that technology had been used to monitor workers in the way suggested, was due to some managers contravening Royal Mail policy.
But the MPs said they did not believe that could have happened "without direct or indirect approval of management". The committee said if senior management had not known, then they should be investigated by the board for negligence.
The MPs also called on the Information Commissioner to check whether this data collection was legal.
The Information Commissioner's Office said it would respond to the report.
Ofcom said it was carefully considering the MPs' report into late letter deliveries.
"We're very concerned about this and have asked the company to explain what it's doing to bring service levels back up as a matter of urgency," the regulator said.
It said it would look at Royal Mail's performance from April to March and wouldn't hesitate to take enforcement action if required.
Royal Mail said it would review how its delivery policies were being used and feed that back to MPs and Ofcom.
"The commercial reality of providing the universal service has changed" Royal Mail said.
The company has faced a series of challenges in recent months, including an ongoing industrial dispute over working conditions.
Strikes caused considerable disruption over the Christmas period.
Royal Mail was then hit by a cyber attack that disrupted overseas mail services in January and February.
In 2020 Ofcom fined the firm £1.5m for missing delivery targets.