Disruption for train passengers as rail strikes continue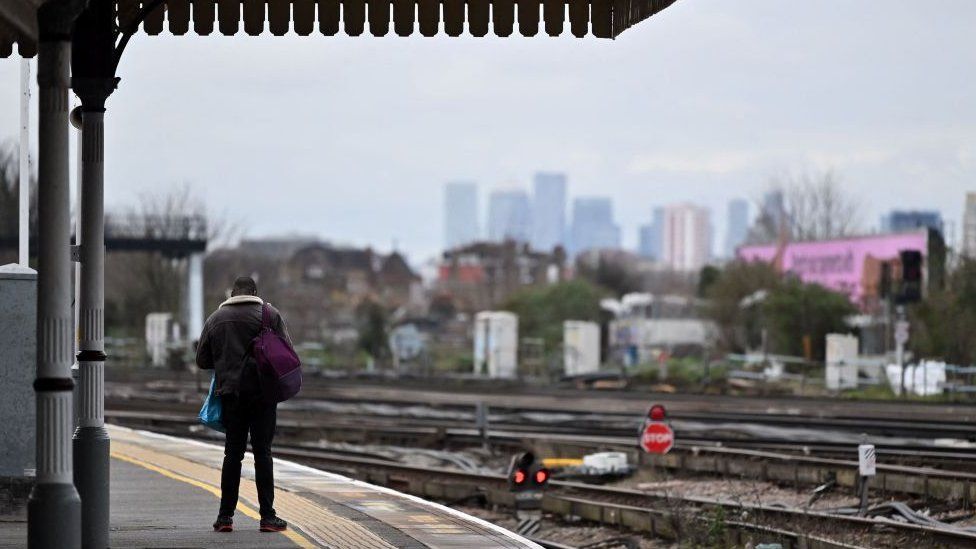 Train passengers are expected to face more disruption this weekend as rail workers continue with strike action.
Workers at 14 train operators are walking out over a long-running dispute over pay, job cuts and conditions.
Across the UK, only between 40 and 50% of trains are expected to run on Saturday, with no services at all in some places.
The walkout follows a week of strike action from teachers, junior doctors, civil servants and rail workers.
Rail passengers have been advised to check before travelling, with services due to start later and finish much earlier than usual.
Football fans and families travelling for the weekend are among those predicted to be affected.
The Rail, Maritime and Transport union (RMT) said more than 20,000 workers would be walking out unless a settlement was negotiated.
Steve Montgomery. who chairs the Rail Delivery Group (RDG), said the latest strike action would be a "further inconvenience" for passengers "who have already experienced months of disruption".
"Unfortunately, while we will pull out all the stops to keep as many trains running as possible, there will be reduced services across many parts of the rail network on strike days, so our advice is to check before you travel."
RMT members also walked out on Thursday and further strike action is planned for 30 March and 1 April.
Unions say any pay offer should reflect the rising cost of living, which is currently above 10%.
RMT general secretary Mick Lynch said the private rail companies were "in complete chaos".
He said the RDG needed to "sort themselves out and settle our dispute with an improved offer".
"They are incapable of providing a decent service to passengers and the sooner they are brought into public ownership the better."
Following the walkout, there are warnings that trains services could also be disrupted on Sunday morning as some rolling stock will not be in the right depots.