Reader question: Do I need an international permit to drive in Italy?
If you're visiting Italy from the US and plan to drive during your trip, will an international driving permit be necessary? Here's a look at the rules.
Published: 21 March 2023 17:31 CET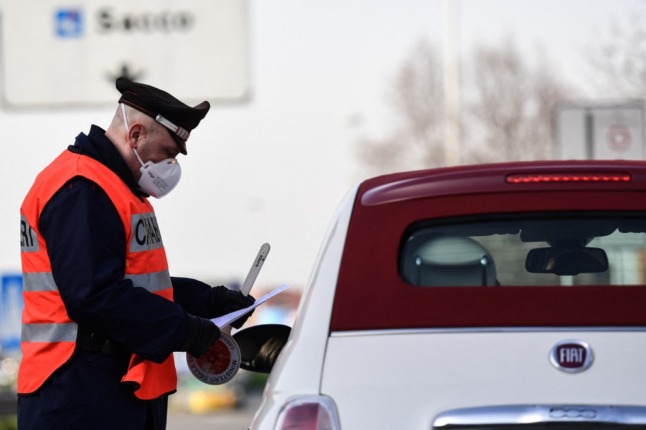 If you're planning to drive in Italy, you'll need to make sure you have all the required documents. But what exactly are they? (Photo by Miguel MEDINA / AFP)
Question: "We're planning a trip to Italy in May and we plan to rent a car. We've read conflicting information about whether or not we (as US nationals) will need an international driver's permit. What should we do?"
There's no shortage of information out there about driving in Italy as a visitor, but the rules aren't always made crystal clear.
For example, the official website for the US Embassy and Consulates in Italy says travelers "should obtain an International Driving Permit before leaving the US."
But then it also says: "Tourists may also use their valid American driver's license if accompanied by an official translation in Italian."
So what do you actually need?
Italy's official rules state that US nationals (and other visitors to Italy from outside of the European Union, not including from the UK) essentially have two choices.
READ ALSO: Who needs to exchange their driving licence for an Italian one?
"Unless your national driving licence was issued by an EU/EFTA-member state, it must be accompanied either by an international driving permit, to be obtained prior to departure, or by a certified translation (traduzione giurata) into Italian," according to information provided in English by motoring association ACI (Automobile Club d'Italia).
In practice, most people find that getting the international driving permit (IDP) is by far the easier option.
As anyone who has applied for Italian residency or citizenship can likely tell you, obtaining a certified translation into Italian of any foreign-issued document is no walk in the park and can also be expensive.
READ ALSO: How to pay Italian traffic fines from abroad
ACI says you'll need to get it from an embassy or consulate, or through a certified translator or interpreter who "will need to declare before a court registrar that the translation is a true copy of the original".
By comparison, the process of getting hold of an IDP is straightforward. For US nationals, applying (in person or by mail) via AAA costs $20 plus tax, and the only requirements are that you are aged over 18 and already have a valid driver's license.
AAA says an IDP will be valid for one year and you can apply up to six months before your trip.
Do I really need to get an IDP?
You may have heard that travelers don't need to bother getting either document for a trip to Italy – some people will tell you they've driven on Italian roads plenty of times without being asked to show an IDP.
Anecdotally, it sounds as though most visitors to Italy are unlikely to ever be asked to produce it, although some regular visitors have told The Local that they find checks have become more frequent in recent years.
And, unfortunately, not having the required document when needed could prove problematic and expensive.
READ ALSO: How to avoid car hire scams in Italy
Rental companies may ask you to show both your US license and your IDP when you pick up your vehicle, though it depends on the company.
More importantly, if you get pulled over by the police in Italy (you don't need to be doing anything wrong; random roadside checks are common) or get into a car accident, and you don't have the permit when asked for it, you could be fined anything between 408 and 1,634 euros.
As with so many things in Italy, experiences vary enormously depending on where you go: police in each Italian region or city tend to have different priorities and often interpret and apply certain rules differently.
Considering the large fine you could end up with, we'd advise following the rules and getting your IDP if your licence was issued in the US or another country where the Italian rules specify that this is a requirement.
Even if you never need to show it to anyone, it'll give you peace of mind and help make your trip to Italy a more relaxing experience.
Please note that The Local cannot advise on individual cases. For more details about how Italy's road rules may apply in your circumstances, consult the Italian embassy in your country or read more about the rules on driving in Italy on the ACI website (in English).
Do you have a question about living in or travelling to Italy which you'd like to see answered on The Local? Submit it here.