13 essential apps to make your life in Italy easier
Though some might not always fulfil their purpose, apps are essentially designed to make daily life easier and for those living in a foreign country any type of help, however big or small, is worth its weight in gold.
READ ALSO: Calendar: The transport strikes to expect in Italy this February
So, in no particular order, here are 13 apps that might prove essential for life in Italy.
Advertisement
Moovit
Moovit is by far the best urban mobility app available in Italy.
From public transport to taxis and e-bikes, Moovit will give you travel options to get to your destination in the quickest possible time.
The times where you'd need multiple apps to figure out the quickest way to get from A to B are long gone.
Enjoy
Public transport options aren't always great in Italy, and you might find yourself looking for a car to hire on more than one occasion.
If you live in Milan, Rome, Turin, Bologna or Florence, you'll be able to do so via Enjoy.
Once you've uploaded your driving licence to the app, you'll only need to locate the nearest car in your area and book it with a simple click. Parking at the end of your journey will be free of charge.
Lime
If you're not a fan of cars (or simply can't stand traffic during peak hours), you'll also have the option to hop on a bike and cycle your way through the city.
There are countless bike-sharing services across the country, but Lime is definitely one of the most reliable ones.
Prices vary depending on where you live, but they're generally very affordable.
Free Now
Regular Uber services are not available in Italy, so you'll have to turn to local taxis for a ride.
Advertisement
Free Now will spare you a lot of traipsing around (and a lot of roadside waving) by allowing you to summon a taxi to your exact location and pay for your ride via the app.
Other apps, like appTaxi and itTaxi, are also available and some are more widely used in certain cities than others.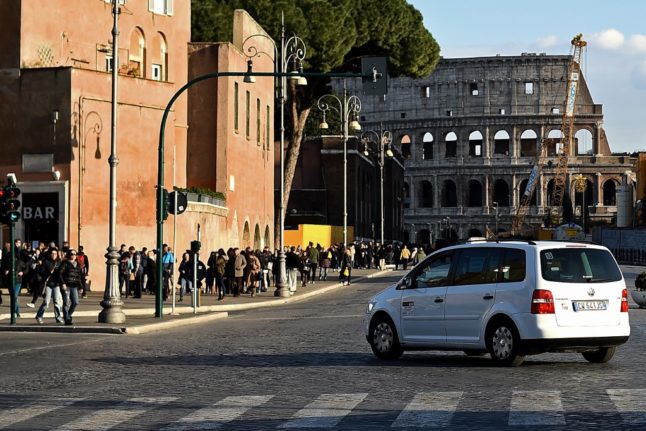 Free Now allows residents to quickly hail a taxi and pay for the ride via the app. Photo by Filippo MONTEFORTE / AFP
Il Meteo
While it might not have the most creative of names – it literally means 'the weather' – Il Meteo is the best mobile app if you're looking to keep up to date with weather conditions in your corner of the boot.
Aside from giving you ten-day forecasts, the app gives you updates on pollen levels, road traffic and earthquakes as well as live satellite images.
Advertisement
Satispay
Satispay is one hell of a time-saver when it comes to making small purchases at your local grocery store, especially if you don't have Apple Pay or Google Pay set up on your phone.
The app is essentially an online wallet which allows you to pay by simply scanning a QR code at the relevant check-out machine.
Other than that, it allows you to send money to your phone contacts and make a series of in-app payments, including phone top-ups and car tax payments.
The Fork
Booking a spot at a local restaurant can be a bit of a hassle at times, especially if your Italian is still così così.
That's where The Fork comes in. A couple of effortless taps on your screen and you're booked.
The Fork also gives you access to a number of generous discounts (as much as 50 percent in some cases) on your restaurant bill.
Advertisement
Glovo
If you're craving a restaurant meal but don't quite want to leave the comfort of your home, Glovo is one of the best options available in Italy.
Glovo services more than 450 towns and cities across Italy and their deliveries are usually bang on time.
Aside from delivering food orders, the service will also bring anything from groceries to medicine to flowers right to your doorstep.
Giallo Zafferano
One of the best ways to tap into the bel paese's unparalleled culinary tradition is by downloading the Giallo Zafferano (Saffron Yellow) app.
Giallo Zafferano stores over 4,000 recipes, many of which are accompanied by video tutorials, nutrition facts and historical notes.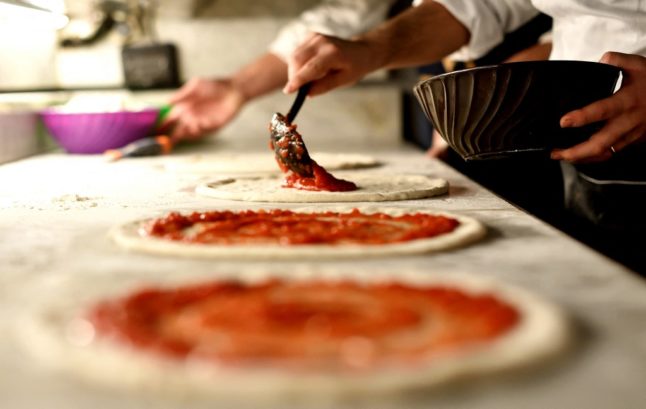 The Giallo Zafferano app allows users to tap into Italy's world-famous culinary tradition. Photo by Tiziana FABI / AFP
The app will also allow you to share tips and photos of your creations with other users.
Subito
Subito is an online marketplace where you can buy or sell anything from cars to real estate to home furniture.
Advertisement
The app has over six million ads, but searching for items is surprisingly easy thanks to the filters and categories provided.
Also, Subito allows you to post ads for free and chat with potential buyers (or sellers) directly within the app.
Prezzi Benzina
Though they might not be as high as they were some months ago, fuel prices are still far from the norm and even small savings can make a big difference.
You can use Prezzi Benzina (Fuel Prices) to quickly locate the cheapest petrol station in your area and get the best available deal.
READ ALSO: Where to find the cheapest fuel in Italy
All you have to do is select the type of fuel your vehicle runs on and enter your location. The app will do the rest.
IO
Italian bureaucracy is notoriously tricky to navigate, but setting up the IO app on your phone will make things easier for you.
IO allows you to message and exchange documents with any Italian public body, and gives you the option to pay for a number of public administration services from within the app.
Remember: you'll need SPID (Public Digital Identity System) credentials or an Italian Electronic Identity Card (CIE) to access the service.
MedInAction
MedInAction allows you to book an appointment with a qualified English-speaking doctor within 24 hours.
READ ALSO: EXPLAINED: How to make a doctor's appointment in Italy
However, the service isn't cheap – prices for house calls start at 120 euros, whereas online consultations with a GP are available for 50 euros – and only the biggest Italian cities are covered.
Also, the app is only available on iOS devices.