Trump holds first 2024 campaign rally in Waco, Texas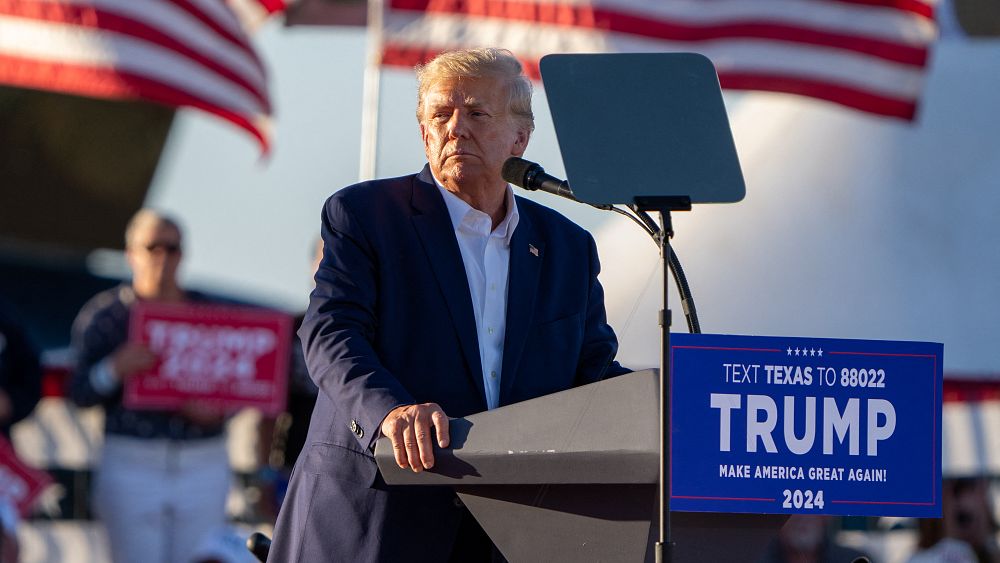 Former US President Donald Trump held the first rally of his 2024 White House campaign on Saturday at an airfield in Waco, Texas.
A highly symbolic location, Waco is known for a deadly siege between US law enforcement and the Branch Davidians in 1993.
The 51-day standoff resulted in the deaths of more than 80 members of the religious cult and four federal agents, becoming a touchstone for far-right extremists and militia groups.
Trump made no reference to that tragedy and a spokesman told reporters the Texas town had been chosen because of its central location and good transport links.
The former president is facing a potential indictment in New York in a case involving payments to pornographic actress Stormy Daniels just before his 2016 victory.
Prosecutors are seeking to determine whether Trump was guilty of making false statements, a misdemeanour, or failing to comply with campaign finance laws, a criminal offence, by paying money to the actress to buy her silence.
"The New York Attorney General, under the auspices and direction of the ministry of injustice in Washington, DC" is investigating "something that is neither a crime, nor a misdemeanour, nor an affair," Trump told his supporters, denouncing yet another "witch hunt".
Some of Trump's recent rhetoric, including at the rally, has echoed language he used before the Capitol insurrection by a mob of his supporters seeking to stop the transfer of power to Democrat Joe Biden, who won the presidential election.
'He's our saviour'
While several thousand people came to applaud the billionaire for this oratorical exercise under the Texas sun, the crowd remained far from the 15,000 expected, journalists on the spot noted.
"We represent a huge power behind Donald Trump, which is just waiting to be unleashed," assured fan, Kelly Heath, 49, who travelled several hundred miles from Georgia to applaud the man.
"I love him, he's our saviour," said Marianna Bodrogi, a 69-year-old retiree.
Trump drew loud applause when he attacked Manhattan prosecutor Alvin Bragg, who is in charge of the investigation, and his colleagues, calling them "radical left-wing maniacs".
On 21 March, he had tried unsuccessfully to mobilise a tide of supporters in the streets of Manhattan to oppose what he had presented as an imminent arrest, which did not take place.
"All presidents have had mistresses. Why not him?" said Louis, a 72-year-old retiree, accompanied by his 16-year-old grandson, whom he says is a "big fan" of Trump even though he is not old enough to vote.
The former president is also under threat from investigations into his lobbying in Georgia in 2020 and handling of classified White House records.
Trump vs DeSantis
Trump tried to find a second wind on Saturday with an expectant crowd, among booths selling everything from "Trump 2024" and "Trump Girl" hats to a white shirt with the slogan: "God, guns, Trump in Waco, Texas."
Even though most polls show him winning a primary, his campaign is struggling to gain the momentum he had hoped for.
The billionaire, who continues against all odds to evoke supposed "fraud" never proven in the 2020 election, has seen a part of the right — and notably his wealthy donors — turn to the new champion of the hard right, Ron DeSantis, 44.
The Florida governor is not yet officially in the race but will undoubtedly be one of his biggest rivals for the Republican nomination in 2024.
The Fox News channel, which was once a supporter of the billionaire, covered the Waco meeting only minimally.
This town of 130,000 inhabitants remains associated with the anti-government sect of Davidians.
In the spring of 1993, the world was suspended for 51 days when the FBI laid siege to a ranch where armed followers of guru David Koresh had taken refuge. Seventy-six cult members, including 20 children, were found dead after the ranch burned down. Four police officers were also killed.