Talks under way in Israel after Prime Minister Benjamin Netanyahu pauses judicial overhaul plan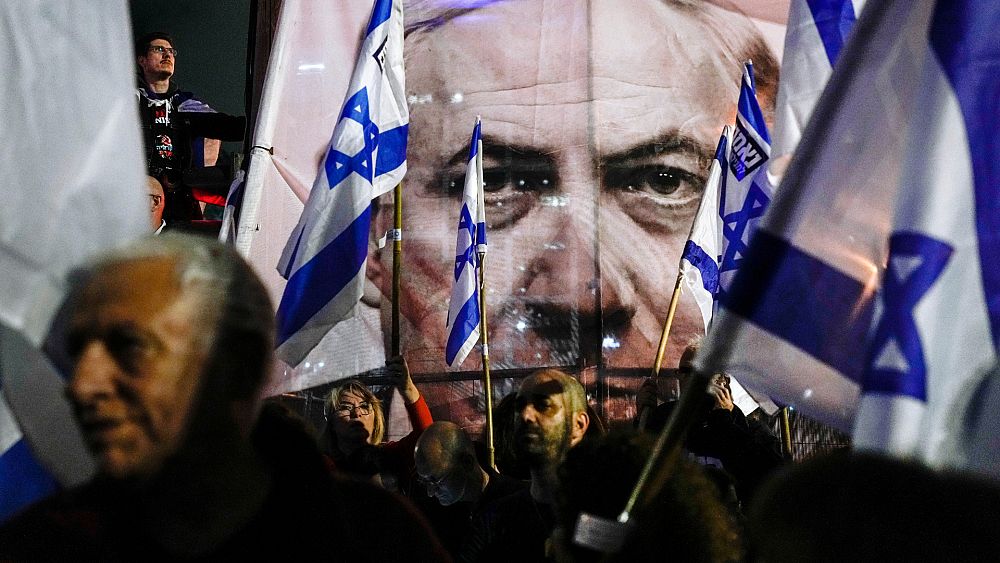 Demonstrators gathered in Jerusalem to protest at talks between opposition and government representatives on the controversial judicial reforms that have divided the country.
Israeli President Isaac Herzog has offered to mediate negotiations between political leaders to find a solution to the country's political crisis.
Talks started after Prime Minister Benjamin Netanyahu bowed to 'protest pressure' and announced he was delaying his judicial changes. But scepticism remains high among those who've been on the streets for weeks decrying the overhaul which they say threatens Israel's democracy.
The negotiations come as Israel is plunged into its most severe domestic crisis in years. The unrest was sparked by the judicial overhaul that would curtail the authority of the Supreme Court and give politicians greater powers over the selection of judges.
It would also give parliament the authority to overturn Supreme Court decisions and limit the court's ability to review laws.
The initial plan was paused after three months of increasing tensions that split the nation and raised concerns among the US and other allies.
The decision to halt the legislative process marked a dramatic U-turn for the premier, who just a day earlier announced he was sacking his defence minister who had called for the same step.
The move was greeted with suspicion in Israel. The president of the Israel Democracy Institute think-tank said the suspension did not amount to a peace deal.
"Rather, it's a ceasefire perhaps for regrouping, reorganising, reorienting and then charging — potentially — charging ahead," Yohanan Plesner told journalists.
Netanyahu leads the most right-wing government in Israeli history and his allies have vowed to enact the legislation.
The prime minister has argued that the overhaul is needed to rein in a liberal and overly interventionist court of unelected judges.
But his opponents say the package would concentrate too much power in the hands of Netanyahu's allies.