President Zelenskyy warns losses in Bakhmut will be sold as 'victory' by Kremlin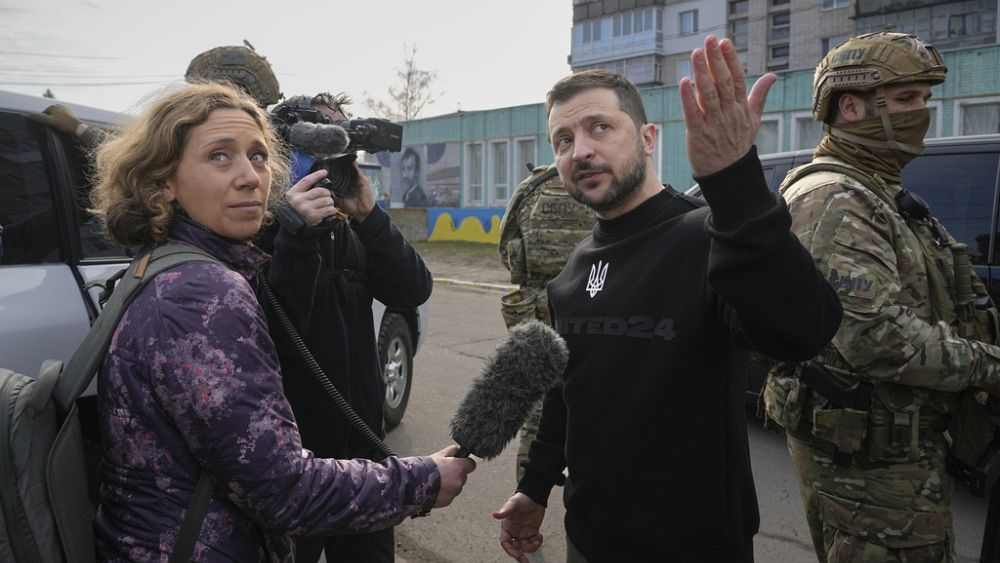 Ukraine's President Volodymyr Zelenskyy has warned that should his troops fail to hold off Russian advances in the eastern city of Bakhmut, Moscow may begin seeking international backing for a peace deal that would require Kyiv to accept significant compromises.
Ukrainian forces are continuing to fiercely resist Russia's onslaught in Bakhmut, which has seen the longest-running and bloodiest fighting since Moscow's invasion on 24 February last year.
That's despite many analysts claiming that the city itself holds little strategic value.
But speaking to a reporter on a train after visiting the frontline, Zelenskyy warned that Russia's complete control of Bakhmut would be sold as a major military success by the Kremlin.
"That will be a victory for him (Putin). He will sell this victory. He will sell this victory to (the) West, to his society, to China, to Iran, to all the countries… He will sell it to his society," Zelenskyy explained.
"If he will feel some blood – smell that we are weak – he will push, push, push," Zelenskyy told The Associated Press on Tuesday.
That one little step. Now, wait a minute, wait a minute, 'I will have [a] decision with Ukraine.' Then another step, another step, another step," he added.
Zelenskyy also outlined his intention to revive dialogue with China – which could play a key role in the resolution of the conflict – which has refused to condemn the war in Ukraine.
However Chinese President Xi Jinping did meet with his "dear friend", Russian president Vladimir Putin, during a state visit to Moscow last week.
The talks appeared to show no signs of progress over the question of ending the war.
"Of course, I get all the diplomatic and public and not public [invitations] to [the] president of China, to [the] leader of China. And I want to speak with him. Because I had contact with him before the full-scale war, but during all this year, more than one year, I didn't have [contact] and I really wait [for] when our teams will find the solution," Zelenskyy said.