Teaching the basics brilliantly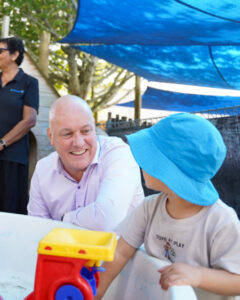 By Christopher Luxon, Leader of the National Party and MP for Botany
Education has been a big focus of mine ever since I became a politician, because the current state of education in New Zealand is alarming and it is only getting worse.
School achievement has been in decline for the last thirty years and a recent NCEA pilot exposed just how far it has fallen.
Two thirds of secondary school students failed to meet minimum standards in reading, writing and maths, while 98 per cent of Decile One Year 10 students failed a basic writing test.
This is utterly unacceptable.
When I became Leader of the National Party, I mentioned my aspirations to lift New Zealand's education and bring it back to what it once was.
New Zealand kids used to be among the top 10 in the world in maths, reading and science. This is no longer the case.
That is why last week I was proud to announce National's 'Teaching the Basics Brilliantly' plan which will ensure every child has the skills they need in reading, writing, maths and science to set them up for further success.
Firstly, National will require all primary and intermediate schools to teach an hour of reading, an hour of writing and an hour on maths, on average, every day.
Children need the time to acquire knowledge, practice skills and master the basics so they stay with them for life.
Secondly, National will re-write the curriculum so it says what must be taught each year in reading, writing, maths and science to every year group in primary and intermediate schools.
Currently the curriculum is far too loose. It does not give teachers clear guidance about what to teach, when.
Instead of being divided by years, it is grouped in "bands" spanning two to three school years.
National will get rid of the three-year bands, replacing them with explicit expectations of achievement and knowledge dissemination for each year group.
We will check children have learned what the curriculum says they should have learned, and we will keep parents informed about where their kids are up to.
Therefore, the third part of the plan requires schools to assess student progress in reading, writing and maths at least twice a year every year from Year 3 to Year 8, with clear reporting to parents
This will provide something we don't have at the moment – a reliable, national picture of how New Zealand children are progressing at primary and intermediate school.
At the moment, the first national test for numeracy and literacy is not until NCEA. Until then, we are flying almost completely blind.
Finally, National will ensure that teachers and trainee teachers spend more time learning how to teach the basics.
We will also provide them with more classroom tools and lesson plans to help them teach reading, writing, maths and science.
We will set a target of 80 per cent of Year 8 students being at or above the expected curriculum level for their age in reading, writing, maths and science, and also aim to have New Zealand back in the top 10 world rankings by 2030.
The day after I made our education announcement, I had the pleasure to visit my old school – Cockle Bay Primary School right here in Botany.
This school gave me a great grounding in writing, reading, maths and science. It got me off to a great start and made me feel positive about school and learning.
I am ambitious for New Zealand children. School achievement has declined under successive governments, but a National government I lead will stop that decline.
National's plan will benefit the whole country, but the real winners will be the kids who one day have the chance to realise their potential and lead the life they want because, regardless of where they came from, or where they lived, their teachers taught the basics brilliantly.