What changes about life in Italy in April 2023?
April Fool's
While April 1st is known as April Fool's Day in English-speaking countries, the date is known as Pesce d'Aprile (literally, 'April's fish') in Italy.
Though you may think that the expression is in some way related to the act of 'baiting' people, it more likely comes from a common prank that involves sticking a drawing of a fish onto the back of an unsuspecting victim and then asking them if they've seen 'April's fish'.
Advertisement
Though it's not clear how or when exactly the custom started – some believe it's connected to old Christian traditions around avoiding fish on holy days – the pesce d'aprile is one of the most popular pranks in Italy, so you might want to 'watch your back' on the day.
Good news for UK driving licence holders
After a long wait, British nationals living in Italy will finally be able to swap their UK-issued driving licence for an Italian one without having to retake their test.
The UK government has confirmed that a UK-Italian agreement will come into force on Thursday, March 30th, after which date residents will be able to book an appointment to exchange their licence with their local motorizzazione office.
For further information see our report HERE.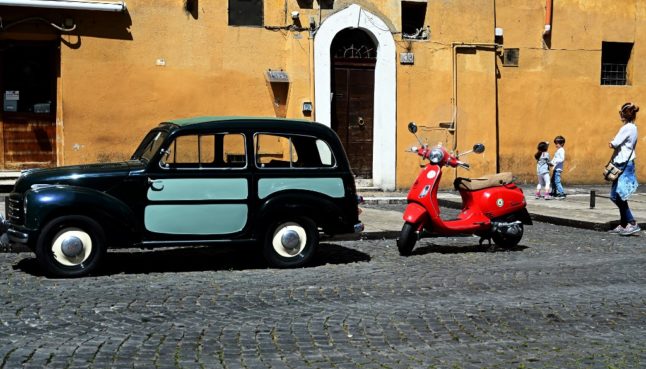 British nationals will be able to swap their UK-issued licence for an Italian one starting from Thursday, March 30th. Photo by Vincenzo PINTO / AFP
New national strikes
Transport strikes will continue in the coming weeks, with two national strikes currently planned for April.
ENAV air traffic operators from all around the country will strike from 1pm to 5pm on Sunday, April 2nd, whereas staff at Trenitalia, the main train operator in Italy, will strike from 9am to 5pm on Friday, April 14th.
There are currently no details as to what level of disruption these demonstrations will cause, but The Local will cover all relevant updates in the coming days and weeks.
A number of other local and regional demonstrations are scheduled in the coming weeks. You can find out more about those HERE.
New decree on gas and electricity bills
A new government decree detailing help with utility bills in the coming months will be issued in April.
While there isn't much in the way of confirmed changes yet, Meloni's government is reportedly considering maintaining the current arrangements regarding gas bills – VAT set at 5 percent and no additional system fees – until June and extending the bonus sociale incentive to families with an ISEE up to 15,000 euros a year (the cap currently stands at 9,530 euros a year).
According to financial newspaper Il Sole 24 Ore, the new decree will also include a new 'heating bonus' set to come into effect next October. The bonus would be automatically applied to all households (no income limits) whenever gas prices were to exceed a pre-set figure.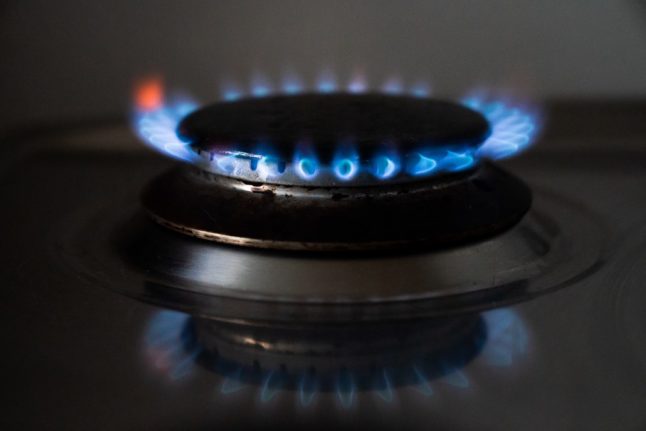 A new decree on gas and electricity bills and related state incentives will be issued in April. Photo by Ida Marie ODGAARD / AFP
Advertisement
There are currently no details as to when exactly the decreto bollette will be converted into law, though the decree's first draft should be submitted to ministers' scrutiny in the coming days, according to the latest media reports.
Easter holidays
Unlike in other European countries, Good Friday (or Venerdì Santo) is not a national holiday in Italy, which means that you'll only get time off work on Easter Sunday (Pasqua) and Easter Monday (Pasquetta), falling on April 9th and 10th respectively.
READ ALSO: Calendar: How to make the most of Italy's public holidays in 2023
Pupils and teachers will get a longer break as for most Italian regions this year's public school holiday will go from Thursday, April 6th to Tuesday, April 11th.
Dates might differ for private institutions.
Advertisement
Italy's biggest furniture fair returns to Milan
The Milan Furniture Fair (or Salone del Mobile in Italian) – a yearly benchmark event for the international furnishing and design sector – will start on Tuesday, April 18th.
The historic exhibition, currently in its 61st edition, will display the latest creations of leading national and international brands, attracting industry operators and design aficionados from all over the world.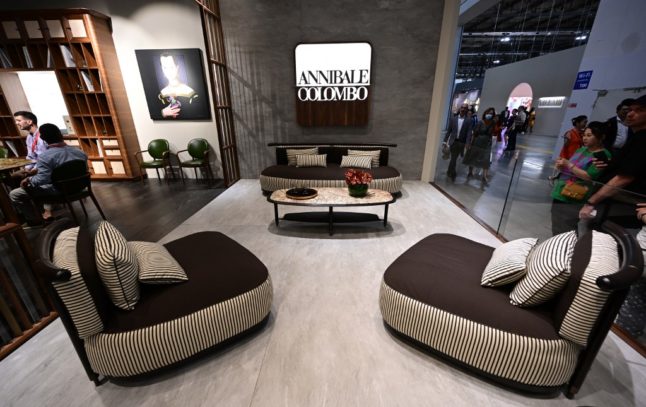 The Milan Furniture Fair, Italy's biggest design and home furnishing exhibition, will be back on Tuesday, April 18th. Photo by Miguel MEDINA / AFP
The event will be held in the Fiera Milano complex and will be open to the general public on Saturday, April 22nd and Sunday, April 23rd. Further info on the fair is available here. Tickets can be bought here.
Italy commemorates the fall of Fascism
April 25th is Italy's Liberation Day (or Festa della Liberazione in Italian), which is the day in which Italians celebrate the fall of the Fascist regime and the end of German occupation.
Advertisement
The annual event marks the day in 1945 when Italy's National Liberation Committee incited a popular insurrection against Nazifascist forces. The uprising eventually resulted in the liberation of all occupied territories and in the capture and subsequent execution of Fascist leader Benito Mussolini in Milan.
Liberation Day is a national public holiday in Italy, meaning that public offices, schools and most shops will be closed on the day.
The date is one of Italy's most heartfelt national observances and is traditionally marked by a number of official ceremonies, including the laying of wreaths in honour of the women and men who fought in the Italian Resistance, as well as marches featuring renditions of the Bella Ciao anthem.
Face mask mandate expiring?
There are few Covid rules left in Italy, and a remaining requirement to wear face masks in hospitals, surgeries and care homes is set to expire on Sunday, April 30th.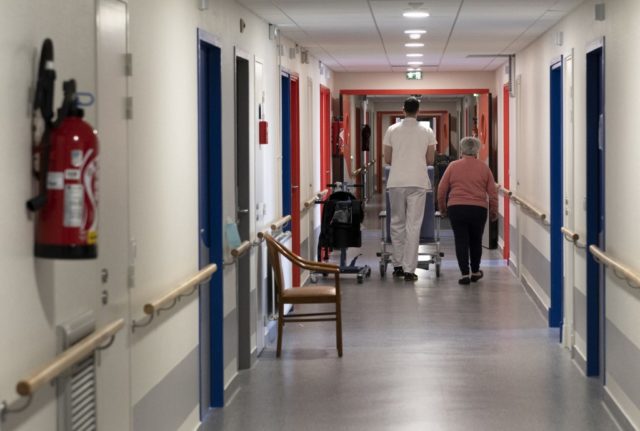 Barring any further extensions, the requirement to wear masks in hospitals and care homes will expire on Sunday, April 30th. Photo by Thierry ZOCCOLAN / AFP
The mandate was originally meant to lapse at the end of December 2022 but was then extended to the end of April 2023 by health minister Orazio Schillaci after China recorded a sharp rise in Covid cases.
Advertisement
READ ALSO: What to expect when travelling to Italy this spring
At the time of writing, the government hasn't given any indication as to whether or not a further extension is being considered.
Covid cases in Italy have been steadily declining since the start of the new year.