Amanda Gorman 'gutted' after Biden's inauguration poem banned at Florida school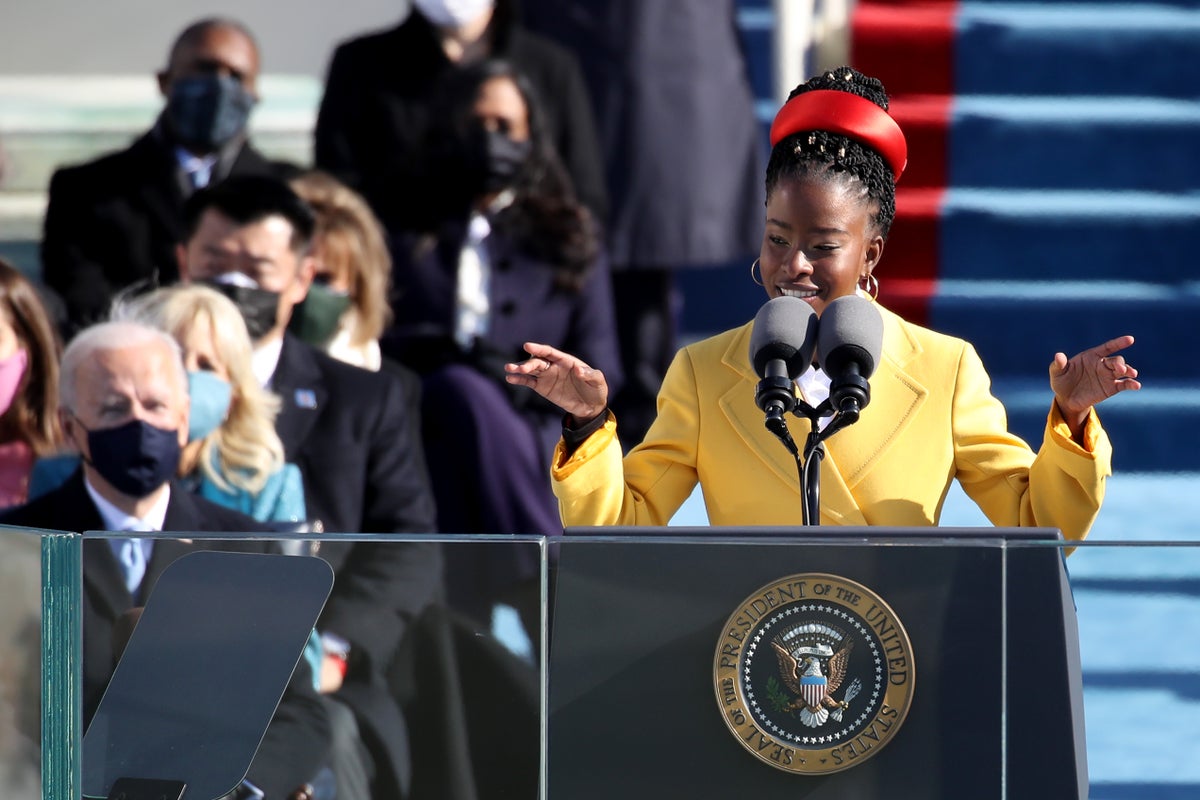 Amanda Gorman says she is "gutted" that the poem she read at Joe Biden's inauguration has been restricted at a Florida school.
Gorman's acclaimed poem, The Hills We Climb, will now only be accessible to middle school students at the Bob Graham Education Center in Miami Lakes, Florida, according to The Miami Herald.
The poem, which the country's first-ever Youth Poet Laureate read at the inauguration in January 2021, was one of several texts reportedly challenged by a parent of two students for referencing critical race theory or gender ideology.
The parent, who attributed it to Oprah Winfrey, claimed that the poem contained "hate messages."
It was inspired by the January 6 attack on the US Capitol and criticised the "force that would shatter our nation rather than share it" as well as calling for social justice and change in the US.
"The new dawn blooms as we free it," the poem concludes. "For there is always light, if only we're brave enough to see it, if only we're brave enough to be it."
Gorman addressed the ban on her poem in a statement on Tuesday.
"I wrote The Hill We Climb so that all young people could see themselves in a historical moment. Ever since, I've received countless letters and videos from children inspired by The Hill We Climb to write their own poems," she wrote.
"Robbing children of the chance to find their voices in literature is a violation of their right to free thought and free speech."
The poem was one of several works challenged by a parent of two students at the school. A committee made up of three teachers, a library media specialist, a guidance counsellor and the school's principal, decided that the 700-word poem was "more appropriate" for middle school students and would be moved to their area of the school library.
Miami-Dade County's mayor has now invited Gorman to give a reading.
"Your poem inspired our youth to become active participants in their government and to help shape the future. We want you to come to Miami-Dade to do a reading of your poem. If you're in, we will coordinate," Daniella Levine Cava wrote on Twitter.
Miami-Dade County Public Schools insisted on Twitter that the book had not been banned from the school
"In order to ensure accurate information, @MDCPS is compelled to clarify that the book titled, "The Hill We Climb" by @TheAmandaGorman was never banned or removed from one of our schools. The book is available in the media center as part of the middle grades collection," the school district tweeted.
The Independent has reached out to MDCPS for comment.