Muere a los 82 años Cynthia Weil, letrista de la edad de oro del pop neoyorquino | Cultura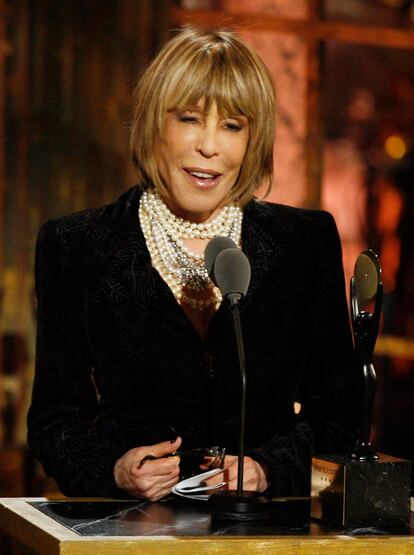 Cynthia Weil, letrista, murió el jueves en su casa de Beverly Hills, a los 82 años. Con su marido, el compositor Barry Mann, firmó muchas de las más llamativas canciones surgidas de Nueva York durante la primera mitad de los años sesenta. Posteriormente, desarrollaron su carrera en California, con abundantes éxitos y encargos para Hollywood.
Cynthia, nacida en 1940, formó parte de la invasión de jovencitos, en su mayoría de origen judío, que tomaron al asalto el Brill Building, principal factoría de canciones pop en Manhattan. Varios de ellos formaban pareja: Carole King-Gerry Goffin, Ellie Greenwich-Jeff Barry, Cynthia-Weil-Barry Mann. Lo que diferenciaba a estos últimos era su afinidad con los ritmos latinos –aunque a veces evocados de modo banal, caso del famoso Blame It On The Bossa Nova– y la sofisticación de algunas letras de Cynthia, que tenía una amplia base cultural. Disfrutaron además de contar con excelsos grupos vocales negros, como las Blossoms o los Drifters.
Ella aportaba cierta visión crítica a sus retratos de Nueva York, como On Broadway, Uptown o Only in America. Sabía salirse del universo de los amores juveniles con temas sobre los peligros de las drogas (Kicks, para Paul Revere & The Raiders) o el deseo de huir de circunstancias agobiantes como We Gotta Get out of This Place, que los Animals convirtieron en el himno extraoficial de los soldados estadounidenses en Vietnam, como se veía en la película Hamburger Hill. Bruce Springsteen declaró que fue la inspiración para temas suyos como Born To Run o Born in the USA.
Se convirtieron en proveedores de Phil Spector, lo que tenía sus inconvenientes –el productor exigía firmar como coautor y cobrar su tajada- pero les permitió brillar en las efervescentes grabaciones de las Ronettes y las Crystals. Sobre todo, construyeron apoteósicos dramas para los Righteous Brothers, como You've Lost That Lovin' Feeling (1964), todavía una de las canciones más radiadas de la historia.
Siguiendo el ejemplo triunfal de su amiga Carole King, se instalaron en Los Ángeles, donde trabajaron juntos y por separado. Barry Mann, el miembro más extrovertido de la pareja, grabó frecuentemente en solitario, mientras que Cynthia se puso al servicio de otros compositores, como David Foster, Lionel Richie e incluso Julio Iglesias (All of you, su dueto con Diana Ross).
Su fórmula, según explicaba, era plantear cada letra como un relato, con planteamiento, nudo y desenlace. En realidad, podía empezar por el final, como ocurrió con Just a Little Lovin', una oda al sexo mañanero recreada por Dusty Springfield. Eventualmente, Cynthia publicaría dos novelas, I'm glad I did y 806.
Ella y su marido fueron reconocidos en el mundo de los compositores profesionales y, en 2010, por el Rock and Roll Hall of Fame. Su obra, que incluso se acercó al country, es demasiado extensa para ser compilada, pero lo esencial aparece en dos volúmenes preparados por el sello para coleccionistas Ace Records, Glitter & Gold y Born To Be Together.
Toda la cultura que va contigo te espera aquí.