Chris Licht out at CNN after botched attempt to gain Fox viewers by dragging network to the right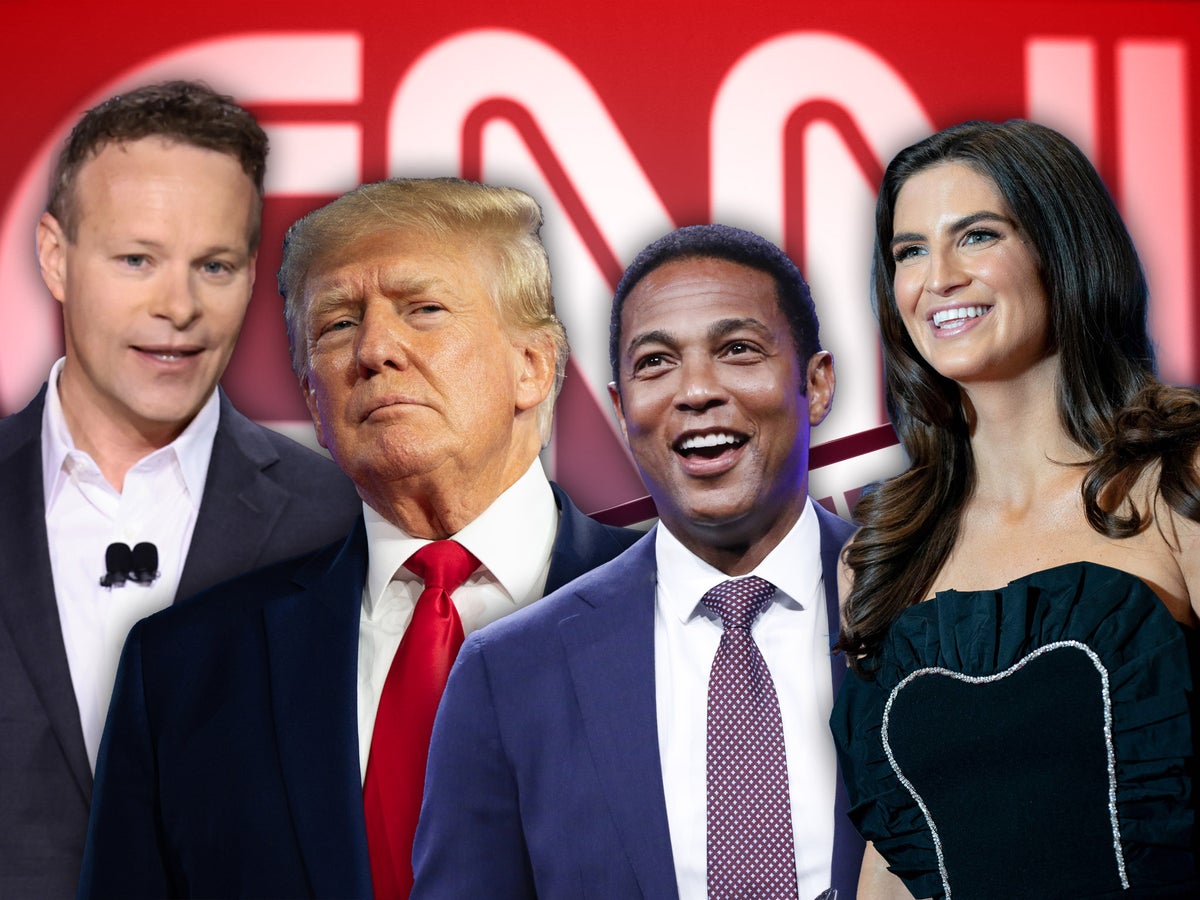 Everybody told Chris Licht not to take the job.
The 51-year-old was axed as CNN chief executive and chairman on Wednesday 7 June after a chaotic 13-month reign at the network.
Under his leadership, the cable channel had seen ratings plummet, attracting fewer viewers than right-wing minnow Newsmax in May, its newsroom was in open rebellion, and staff morale was at "rock-bottom".
His departure had been expected, but still marked a stunning downfall for the powerful television executive who prior to CNN had enjoyed a meteoric rise through the ranks of broadcast journalism.
Mr Licht got his first break working at an NBC affiliate in Los Angeles during the OJ Simpson trial in 1995.
Moving to MSNBC in 2005, he became executive producer of Scarborough Country before helping the former Florida Congressman-turned-broadcaster Joe Scarborough launch breakfast show Morning Joe in 2007.
According to The Atlantic profile that appears to have sealed his fate, Mr Licht was someone known to "run through walls (and run over people) to make great television" during his time at MSNBC.
From there, he was named CBS News' vice president of programming in 2011, helping to launch the successful CBS This Morning the next year.
He parlayed his news nous into comedy, becoming showrunner for Stephen Colbert's The Late Show when it launched in 2015 to strong ratings.
According to The Atlantic, his former star presenters counselled against taking CNN's top job.
"Both Colbert and Scarborough warned him not to take the job, and Licht understood their reservations," author Tim Alberta wrote.
He had suffered a brain haemorrhage at age 38, and was reluctant to get back into the cut and thrust of journalism, the article said.
But with David Zaslav, the CEO of CNN's newly-merged corporate overlord Warner Bros Discovery courting him, Mr Licht couldn't refuse.
He arrived in May 2022 pledging to restrain partisanship, scale back the breaking news chyrons, and give the newsroom carte blanche to chase the stories they saw fit.
Little more than a year later, he was gone.
"The job of leading CNN was never going to be easy, especially at a time of huge disruption and transformation, and he has poured his heart and soul into it," Mr Zaslav said in a statement.
"For a number of reasons, it didn't work out."
'A uniquely s****y situation'
In February 2022, Mr Licht was announced as Jeff Zucker's replacement after the ex-CNN boss was fired for failing to disclose a long-term relationship with fellow network executive Allison Gollust.
Mr Zucker had led the network since 2013, and was said to be extremely popular with star anchors and rank and file journalists alike.
After officially assuming the job in May, Mr Licht went about stamping his mark on the network, which he believed had shifted too far to the ideological left during the Donald Trump era.
One of his first orders of business was to shut down the much-hyped streaming service CNN+ after just one month, resulting in hundreds of job losses.
CNN had spent hundreds of millions of dollars on its new flagship streaming app, luring top talent including Kasie Hunt from NBC and Chris Wallace from Fox News to host shows.
Mr Licht bluntly explained to his new staff at the time that it was a "uniquely s****y situation."
Things would only get worse from there.
Under the direction of Mr Zaslav and major Warner Bros Discovery investor John Malone, Mr Licht felt emboldened to carve out a new strategy of being more neutral and less opinionated to win back conservative viewers from Fox News.
Within a few months, the "purge" had begun.
In August, Mr Licht abruptly fired media correspondent Brian Stelter and axed his weekly Reliable Sources show, which he had hosted since 2013 and had been a ratings success for the network.
Stelter had become a favourite target of the right, in part due to his 2020 book Hoax detailing Mr Trump's symbiotic relationship with Fox News.
Next to go was longtime legal affairs pundit Jeffrey Toobin, who had been suspended in 2021 after exposing himself on a Zoom call with New Yorker colleagues.
And in September, White House correspondent John Harwood "parted ways" with CNN with time remaining in his contract.
'Face of the network'
The new boss also had a hole to plug in his prime time lineup.
The departure of Chris Cuomo in December 2021 after a succession of scandals over his cozy ties to brother and former New York governor Andrew Cuomo had left a void in the 9pm slot that carried over from the Zucker era.
After trying a rotating lineup, Jake Tapper was announced in September as host of the vacant slot for the month leading up to the November midterm elections.
CNN's Jake Tapper struggles to keep a straight face as he reads Fox reaction to Dominion victory
"The world has come to rely on Jake's no-nonsense approach to covering the news, especially during high-stakes election cycles," Mr Licht, who reportedly wanted Tapper to be the "face of the network", said at the time.
Tapper's shift from his regular 4pm to 6pm slot forced a merry-go-round of lineup changes on the network.
On 11 October, Tapper's primetime debut featured interviews with President Joe Biden and Dwayne "The Rock" Johnson and averaged 854,00 viewers.
But he still came a distant third behind Fox News' Hannity and MSNBC's Alex Wagner Tonight.
His ratings fell substantially from there, and after the midterms, quietly returned to his mid-afternoon slot.
Further convulsions were to come.
A botched breakfast
Mr Licht's next move was to announce the network's marquee breakfast show CNN This Morning to be hosted by late night anchor Don Lemon, rising star Kaitlin Collins and longtime presenter Poppy Harlow.
Given his successful background in breakfast news television, the announcement of a new 6am to 9am was seen as Mr Licht stamping his mark on CNN.
But the relationship between Lemon and Collins quickly soured amid rumours of off-air fighting.
In February, Lemon, 57, visibly angered his co-presenters when he said 51-year-old GOP presidential candidate Nikki Haley was not "in her prime".
Ms Haley had kicked off her presidential candidacy by calling for mental competency tests for anyone over the age of 75, prompting Lemon's ill-advised remark.
A visibly upset Harlow responded by saying: "What are you talking about, wait … prime for what?"
Lemon was forced to apologise and undergo training, but tensions persisted between the hosts.
They were not helped by CNN This Morning's anaemic ratings.
The show attracted 360,000 average total viewers and 73,000 viewers in the all-important 25-to-54-year-old demographic in February, the lowest for a CNN breakfast show since 2014.
Variety magazine then published a piece in April detailing an alleged history of misogynistic and "diva-like" behaviour by the former Don Lemon Tonight anchor.
Two weeks later, Lemon was out after 17 years at CNN.
Part of Mr Licht's plan to reset CNN was to convince Republican lawmakers, and by extension viewers and voters, they would get a fair hearing on the network.
Central to this strategy was his courting of Donald Trump, who had refused to appear on the network since the 2016 presidential campaign.
In May, CNN announced that the former president and 2024 candidate would appear at a town hall in New Hampshire to be moderated by Collins.
The 10 May town hall came weeks after Mr Trump had been indicted for illegal hush money payments, and one day after he was found liable for the sexual assault of writer E Jean Carroll in the mid-1990s.
According to Tim Alberta's 15,000-word profile in The Atlantic, Mr Licht acquiesced to almost every one of Mr Trump's demands to make the event happen and renew diplomatic links with his political campaign.
CNN agreed to pack the Saint Anselm College venue in Manchester with Trump supporters, ensuring a WWE-style atmosphere.
Mr Trump then steamrolled over Collins as she attempted to push back on his tsunami of falsehoods, earning rapturous applause when he called her a "nasty woman".
After the town hall, respected CNN anchor Christiane Amanpour was openly critical of the debacle, telling Columbia Journalism School graduates she had "had a very robust exchange of views" with Mr Licht.
CNN's media correspondent Oliver Darcy wrote unflinchingly about the internal turmoil that the town hall had caused in his Reliable Sources newsletter.
For that, he was reportedly marched into Mr Licht's office for a dressing down and told he was being "too emotional".
Alberta, who attended the town hall, wrote that Collins was "no match for the environment she'd been thrust into".
"Squaring off one-on-one against the country's most accomplished trickster is difficult enough, but this was 300-on-one. The result was a campaign infomercial: Trump the populist champion, slaying his old nemesis and asserting to televised fanfare his claim to the presidency."
The Atlantic article cast Mr Licht as an aloof, clueless and deeply unpopular leader, who seemed obsessed with his predecessor Mr Zucker.
CNN staff were reportedly deeply put out by Mr Licht's editorial criticisms of the network's Covid-19 coverage.
After the blistering piece was published on 2 June, Mr Licht apologised to staff in an editorial meeting on Monday.
But the writing was on the wall.
Last week, Mr Zaslav installed a trusted lieutenant, David Leavy, as CNN's chief operating officer.
Then on Wednesday morning, Mr Licht was informed that he was out as chairman and CEO with immeidate effect.
"I met with Chris and he will be leaving CNN," Mr Zaslav told staff at the editorial meeting on Wednesday, according to CNN.
He has been replaced with an interim leadership group of senior executives – Amy Entelis, Virginia Moseley and Eric Sherling – while the search begins for his replacement, Mr Zaslav said.
Afterwards, Mr Darcy wrote that Mr Licht's tenure was dogged by negative press, "often the result of leaks from employees around him who never fully trusted his leadership skills or editorial vision".