NYC and DC public schools cancel outdoor activities as wildfire smoke plagues East Coast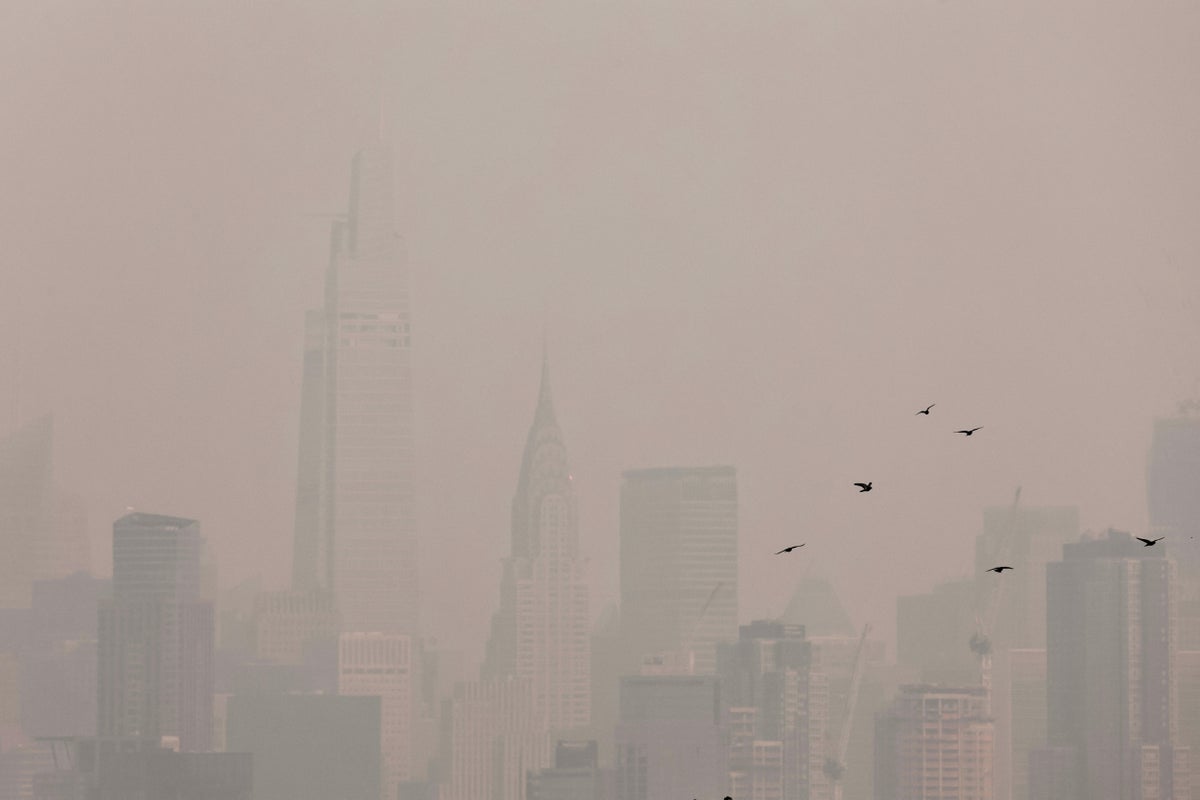 Education departments in New York City and Washington DC have canceled outdoor activities in public schools as wildfire smoke drifting from Canada clouds the skies and creates unhealthy air conditions across the northeastern US.
New York Governor Kathy Hochul also has "strongly" urged school districts statewide to cancel outdoor activities, as the state's air quality index is expected to remain "unhealthy to very unhealthy".
Officials anticipate air quality to improve on 7 June but will likely deteriorate later in the day, according to forecasters, after eye-watering smoke and polluted conditions triggered alerts across the region. Thirteen states have issued air quality alerts, covering an area with roughly 100 million people.
Thick smoke was expected to drift across New York City and Philadelphia through Wednesday afternoon. Smoke is expected to reach as far south as South Carolina.
New York City's air quality index surpassed 200 on Tuesday night, among the worst levels globally.
The city's health commissioner Ashwin Vasan told reporters on Wednesday that the city's air quality is at its worst since the 1960s, with conditions expected to last through several days.
Health officials have warned that hazardous air quality conditions can be acutely harmful for people with respiratory issues and other preexisting conditions. People are urged to stay indoors and wear a well-fitting mask, such as an N95 respirator, while outside. Indoor air purifiers also can help reduce the harmful effects of wildfire smoke.
"This is not the day to train for a marathon," Mayor Eric Adams said during Wednesday's press conference.
Roughly 250 fires have continued to burn out of control in Canada, with parts of Quebec and Ontario under a smog warning.
"Climate change is acclerating these conditions," Mr Adams said during Wednesday's briefing.
The global crisis is "going to force us to rethink the conditions we're going to be facing," he said. "This is a new universe we are in."
In the US, the federal government's most recent National Climate Assessment linked "human-caused climate change" with the rise in wildfires, which have acclerated with global heating caused by emissions from fossil fuels. As carbon released by fires is pumped into the atmosphere, global temperatures incease, further drying out land and vegetation, making it more susceptible to fire.