Brexit: Thousands take part in Rejoin the EU march to demand the country overturn Leave | EUROtoday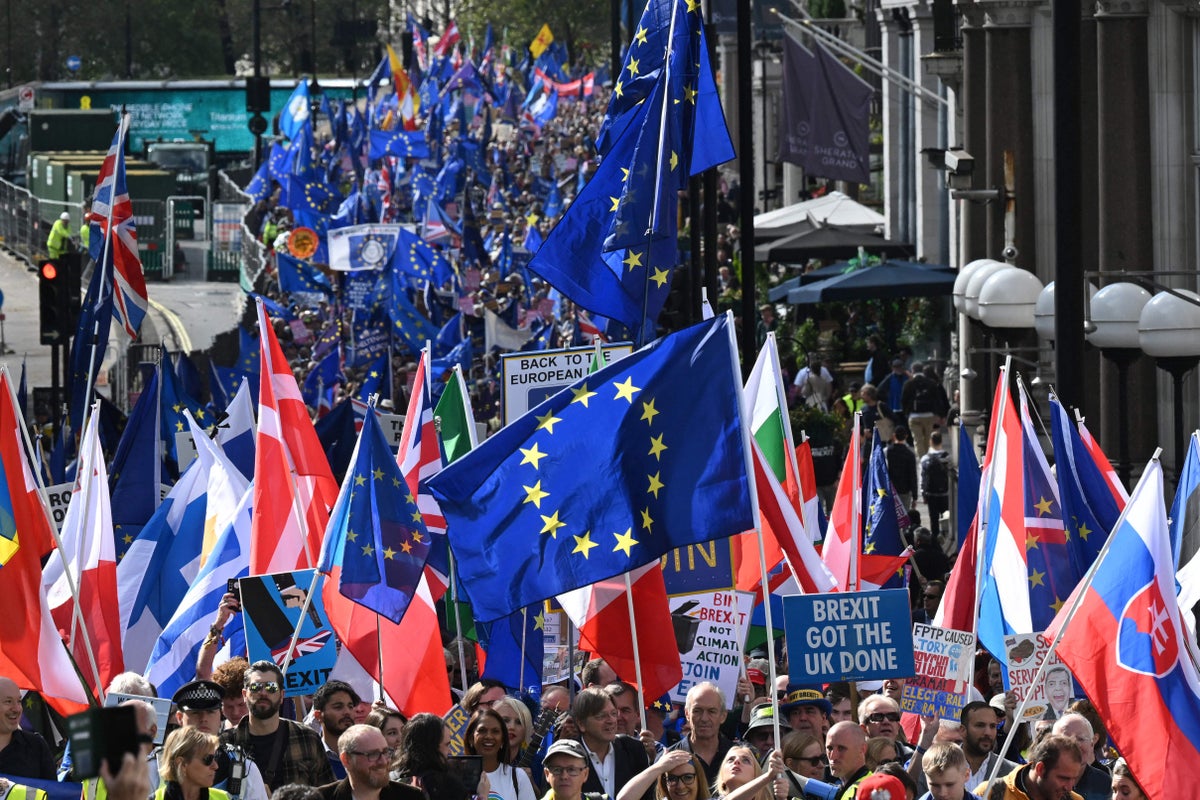 Thousands of Remainers flooded central London with a sea of blue flags and yellow stars as they demanded the country overturn the 2016 Referendum end result and rejoin the EU.
A big crowd of pro-EU protestors gathered in Parliament Square for the National Rejoin March (NRM) on Saturday. Former Belgian PM Guy Verhofstadt and Remainer Queen Gina Miller united to lead the march earlier than addressing the massive gathering.
Peter Corr, chief and co-founder of NRM, mentioned he determined to organise the march because it "felt like everyone had given up" on the trigger.
Mr Corr, a lorry driver from Derby, mentioned: "Brexit was a huge mistake, we're all – especially working class and poorer people – paying for it and we need to do something about it."
He mentioned 60 per cent of the country, and 80 per cent of individuals aged underneath 25, constantly say they'd rejoin the EU in polls, including: "I hate racism and xenophobia and that's just what a big part of that Vote Leave campaign really felt like to me."
Supporters donned EU flags, facepaint, berets and in the case of 1 group, staged an interpretive dance routine as they had been headed from west London to the coronary heart of presidency.
There had been flashes of confrontation as pro-EU activists had been heckled by protesters out in London to oppose Sadiq Khan's enlargement of Ulez and to oppose Rishi Sunak's deliberate ban on XL Bully canines.
Brexit critic Gareth Kearns, 53, mentioned one driver had given the crowd nearing a thousand sturdy the finger as he rounded Hyde Park Corner.
"Another guy shouted 'you're wasting your time'," he advised The Independent. "Firstly, if you're practising democracy it's never a waste of time.
"Secondly don't you have a different argument against us? They can't. They have got nothing."
Fellow protester Madeleina Kay, 29, mentioned the country took a "darker turn" after the Brexit referendum.
The winner of the Young European of the Year 2018 advised The Independent: "I was very disappointed I thought it was a different country. But the only people I'm angry at are the politicians because they lied to us.
"They've let everybody down and we can see the consequences of that now, the cost of living crisis and they have taken rights away from us.
"Rejoining is going to be a long campaign but the younger people voted Remain and that is the future."
Anne Iacovazzo, 62, is a mom of two youngsters who had been born in France and raised in the UK. She is especially involved about the affect of air pollution and believes regulation could be tighter in the EU.
She mentioned: "Pollution is just one of the reasons I'm here there are so many. I'm married to an Italian so my kids have an Italian passport but their friends do not.
"The government let water companies dump sewage because of the supply chain crisis.
"The EU rules wouldn't allow that. We have more pesticides we aren't testing meat coming from Brazil. I've stopped eating meat completely now to avoid it."
The enthusiastic and vibrant crowd noticed a variety of ages from childen to pensioners.
Eric Stoch, 23, north London, painted head to toe in blue physique paint mentioned: "I think everyone young and old can see it's a disaster.
"We don't have much left of a democracy at all getting out on the streets is one of the few beacons of democracy have left."
MEP Terry Reintke, co-president of the Greens group, mentioned the EU's "door would be open" to a doable return by the UK.
"When I see thousands of Europeans in the streets it makes me so hopeful that we will be back together again," she advised the crowd. "The EU is far from perfect we know this. We live in a cost of living crisis, we see war in Ukraine where the geopolitical situation is really hard. Europeans are struggling.
"It's even more important for EU to stand together. People are clear we want the UK to be part of that we want the UK to rejoin the European Union.
"The next steps are clear: we want you back in the Erasmus programme and want closer trade links.
"We want colleagues of UK to be re-elected into the EU as soon as possible. We are still with you, we love you and we want you back."
Protester Steve Bray, higher referred to as the Stop Brexit Man, referred to as for a good and sincere proportional illustration system earlier than begging the crowd to tactically vote to take away the Conservatives. He confirmed might be bringing his megaphone to their Manchester convention subsequent month.
"We don't want to be at [the] Labour conference at all but Brexit is the elephant in the room," he advised the crowd. "They are all in denial."
The Green Party's Zack Polanski advised the viewers "Brexit has failed".
"It has been a catastrophe for the local weather disaster," he mentioned. "But most of all it's hitting the poorest and the most vulnerable in the country the hardest. They have been lied to.
"We will be heard, we will stand up and be counted. Our cause is just, our commitment unwavering.
"The young people know what needs to be done let's make sure our future is in Europe."
Activist Femi Oluwole advised crowds that Brexit "broke" British politics.
"Our politicians aren't experts – Boris Johnson studied Greek poetry at university," he mentioned to laughs.
"We are tired of being deliberately hurt by our own politicians. We can barely afford food, we can't afford Brexit."
https://www.independent.co.uk/news/uk/politics/brexit-march-rejoin-eu-leave-b2417262.html